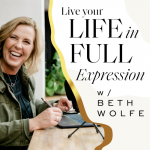 In this episode of Life In Full Expression learn 2 Secrets to take a QUANTUM leap in your self-worth. These two secrets reside inside of you already to explore, elevate, and expand your true divine image and potential.
The Power of Shifting Your Perception
Increase Your Sense of Deserving
Learn from a Hindu story of a mother tiger and her orphaned tiger cub that awakens to his roar!
Know and take 5 simple steps with ease to ignite your true potential:
Learn to release pattterns of thinking and feelings that show up as the 5-D's of disharmony that take you out of harmony of your true essence and potential
Dissolve the 5-D's of disharmony by changing the channel from within yourself…no outside remote needed! LOL !
Rewrite your story — Learn about "Cindy" writing her story of adventure at Walt Disney World Animal Park
Claim your self-worth through Amplification
Allow and expand your believing