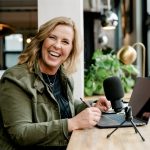 What's the difference between Happiness & Well-Being?  And Why at times does it seem so hard to find true happiness?
Discover if you have the 3 core features for us to flourish?
Learn what happiness is NOT
Discover if the 3 P's of Pessimism are holding you hostage from your own happiness?
Learn just TWO skills that you can develop and cultivate to explore, elevate and expand your own happiness.
Curious to Discover more?  Schedule a chat with Beth:  https://calendly.com/bethwolfe/discoverysession